The primary mission of Kapi'olani Community College's Violence Prevention Task Force is to provide prevention education and services with the goal of creating a safer, more informed campus community.
The task force is made up of a collaborative effort between Instructional Faculty, Counselors, Staff, Students, Administrative Services, the Vice Chancellor of Student Affairs, and the Staff at the UH Mānoa's Women Center.  Sexual assault, stalking and dating violence prevention will be promoted through in-class workshops, professional training and peer education programs.
Reporting an emergency
Call 911 (Emergency Services)
Call (808) 734-9900 (Kapi'olani College Campus Security)
Call (808) 734-9522 (Vice Chancellor of Student Affairs)
Call (808) 734-9585 (Mental Health & Wellness Counselor)
College Policy on Harassment & Violence
It is the policy of the College to provide a safe and comfortable learning and working environment for students and employees. Sexual harassment is a form of discrimination that can undermine the foundation of trust and mutual respect that must prevail if the University is to fulfill its educational mission. Sexual harassment will not be tolerated in any part of the University's programs and activities. Sanctions will be imposed on members of the University community who violate this policy. Disciplinary actions against employees will be subject to the collective bargaining agreements. For more information, please contact the Office of the Dean of Student Services or the Personnel Officer.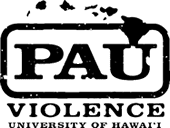 Prevention, Awareness, Understanding
Violence
PAU Violence is a University of Hawaiʻi system-wide program supported by the Hawaiʻi State Department of Health, Maternal and Child Health Branch. The Women's Center at UH Mānoa assists in coordinating, supporting, and strengthening all system campus efforts with prevention education, events, and training that raises awareness of issues of gender-based violence.
Each campus has a designated staff member that coordinates violence prevention events and training. For additional information about each campus, visit their Contact Us page.
Security Tips to Avoid Theft
Double check your locks after securing them.
Don't buy the cheapest lock.
Don't give your combination to anyone.
Don't leave anything unattended.
When using the restroom, don't leave bags or purses on the floor.
Make your items look different from others, so it's easily identifiable.
Security Tips at Night
Park in a well-lit area.
Contact Kapi'olani Community College Security for an escort.
Don't walk near shrubbery, bushes, in between cars, or suspicious groups of people.
Have your keys out before you get to your vehicle.
Walk confidently, head up and shoulders back.
Sex Assault Help
Go to a safe place.
Report the assault to Police (911) or Campus Security ((808) 734-9900).
Call a family member, friend or campus advocate.
Preserve all physical evidence of the assault. Do not shower or brush your teeth, and save all of the clothing you were wearing at the time. Place all garments in a paper (not plastic) bag.
You can call the Sex Abuse Treatment Center ((808) 524-7273). They will send a counselor to meet you at Kapi'olani Hospital. There, you will receive special treatment from one of their doctors. All of their services are free and confidential.
Go to Kapi'olani Hospital ((808) 983-6000) Emergency Room at 1319 Punahou Street. This hospital provides medical care for sexual assault victims, and not all hospitals provide the specialized forensic care you'll need. A medical examination is important because it can protect you from possible injuries, STDs, and pregnancy resulting from the assault.
Write down as much as you can remember about the circumstances of the assault, including a description of the assailant.
Talk with a counselor who is trained to assist victims with the emotional and physical impacts of the assault.
To get information about legal issues you can contact the Sex Abuse Treatment Center ((808) 524-7273) or the Rape, Abuse & Incest National Network (1-800-565-HOPE)
Could this be you or someone you know?
Has your partner ever been physically abusive to you? This may include slaps, shoves, punches, or scratches.
Has your partner ever been emotionally abusive to you? This may include name-calling, insults, threats, or ignoring your wishes.
Has your partner ever been sexually abusive to you? This could include threatening, pressuring, or forcing you to do something sexual when you don't want to.
Do you make excuses for your partner's temper?
Have you stopped seeing friends and doing activities that you used to enjoy?
Is your partner excessively possessive or jealous?
Do you try to change your behavior to prevent your partner from being angry?
Has your partner treated you in a way that you do not want your friends or family to know about?
Have you ever slapped, punched, shoved or otherwise, physically harmed your partner?
Have you ever threatened or said something to intentionally hurt your partner?
Have you ever pressured, threatened or forced your partner to do something sexual?
Do you get so angry you "lose control"?
Do you monitor or track your partners activities?
Do you feel you have to compete for your partner's attention?
Do you treat your partner in ways you regret later?
Have you ever treated your partner in a way you do not want your friends or family to know about?
If you answered yes to one or more of these questions, please consider speaking with a counselor or someone you trust, and remember you are not alone.