Physical Therapist Assistant Program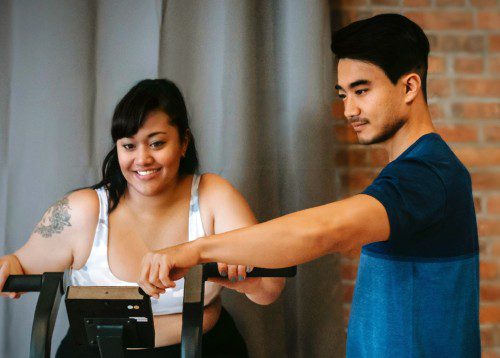 Program Overview
The Physical Therapist Assistant (PTA) works with patients under the direction of a licensed physical therapist and implements therapeutic programs which could include the application of physical agents (such as heat, cold, water, and electricity) as well as massage, exercise, and functional activities. The PTA also observes the patients during treatment and reports progress to the physical therapist.
Physical therapy patients are those who have not developed or have lost the ability to carry out everyday life skills due to disability, accident, injury, or illness. The goal of physical therapy is to assist patients in learning and improving life skills such as walking and moving about with braces, artificial limbs, and other assistive devices.
Degree & Certificates
Associate in Science – Physical Therapist Assistant (72-73 credits)
The purpose of this curriculum is to prepare students for licensure and employment as a Physical Therapist Assistant (PTA) in Hawaiʻi and the United States with the knowledge and abilities to provide care in a variety of settings requiring the rehabilitation of patients who were born with a disability or are disabled as a result of illness, injury, or accident. The Physical Therapist Assistant works under the direction and supervision of Licensed Physical Therapists (PTs). PTAs implement the plan of care developed by the PT following the standards in the American Physical Therapy Association (APTA) Guide to Physical Therapist Practice, APTA Core Values, individual state practice acts, and the APTA policies. The PTA program is accredited by the Commission on Accreditation in Physical Therapy Education (CAPTE).
Special Announcements
COVID-19 Advisory (relative CR/NC Policy)
In light of the COVID-19 pandemic, we will be accepting CR grades from the spring 2020 semester to fulfill prerequisite courses, however, letter grades are preferred.  Supplemental information may be required if you choose to submit a CR grade. If you have any questions, please contact Health Sciences/Emergency Medical Services counselors at (808) 734-9224 or hlthsci@hawaii.edu
Program Accreditation
The Physical Therapist Assistant program at Kapiʻolani Community College is accredited by:
The Commission on Accreditation in Physical Therapy Education (CAPTE)
3030 Potomac Ave., Suite 100,
Alexandria, Virginia 22305-3085
(703) 706-3245
email: accreditation@apta.org
To contact the PTA Program Director directly, please call (808) 734-9398 or email: bzazzera@hawaii.edu
Qualities Needed
Aptitudes and interests that may be helpful include a desire to make a difference in people's lives, interest in science and technology, compassion, sensitivity, problem-solving and communication skills, and the ability to follow instructions
Program Outcomes
Graduation, Employment, Pass Rates on NPTE
Download Graduation Rate, Employment Rate, Pass Rate on NPTE ​(docx)
Program Student Learning Outcomes
Upon successful completion of the Associate in Science degree in Physical Therapist Assistant, the student should be able to:
Demonstrate entry-level competency of all required skills of a PTA for employment in a variety of PT clinical settings applying the knowledge of human anatomy, physiology, pathophysiology, kinesiology, and psychosocial, cultural, and spiritual principles to the rehabilitation treatment process.
Competently perform as a PTA adhering to the ethical codes of conduct, APTA core values, and legal and safety standards of the profession.
Competently implement the plan of care and intervention goals in a safe, effective, efficient, and appropriate manner as directed by the physical therapist.
Competently interact/communicate with patients, families, significant others, and other health care providers about the plan of care required in the rehabilitation process.
Report and record client data, which effectively communicates the need and rationale for physical therapy intervention using appropriate medical terminology.
Advocate for the profession and client as well as provide service to the professional organization's activities, and identify career development and lifelong learning opportunities.
Qualify to take the National Physical Therapist Assistant licensing examination.
Health Careers Counseling Center
Support for Health Career Pathways
Learn about admission requirements and criteria, program curriculum, program cost, financial aid, application for licensure/certificates, and transfer to baccalaureate programs.
Health Career Counselors/Advisors
Kauila 106
hlthsci@hawaii.edu
(808) 734-9224
Virtual Walk-in Hours: Monday thru Thursday from 9:00-11:30 am & 1:00 – 3:00 pm. No appointments are needed. Closed on holidays.
Health Careers Info Session
Program Information sessions are held monthly and provide potential applicants with program details and requirements, application procedures, and career outlook. Attending an information session is recommended before you start your academic journey. Attendance of a program information session within one year of the application submission is mandatory when applying to a Health Science and EMS program.