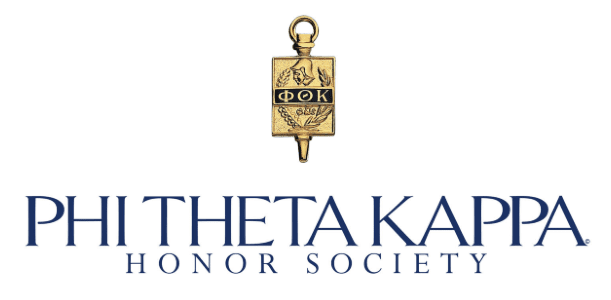 Phi Theta Kappa Honor Society
What is Phi Theta Kappa (PTK)?
Founded in 1918, the Phi Theta Kappa Honor Society is the officially-recognized international honor society of two-year colleges and academic programs. Its headquarters is in Jackson, Mississippi. There are nearly 1,300 chapters in 11 countries and there are more than 2 million members and counting.
Membership in the Phi Theta Kappa Honor Society guarantees you access to benefits that will recognize your outstanding academic accomplishments and provide you with the competitive skills and knowledge that will help to build your resume and ensure future success. These benefits are unmatched by any other collegiate honor society.
Membership Eligibility
Full Member
You must have completed at least 12 hours of coursework toward an associate or bachelor's degree or at least 6 hours of coursework toward a 1-year certificate; and
You must have a cumulative 3.5 grade point average.
Community Member
We welcome EVERYONE to participate in our events, activities, service, and meetings!
There is no minimum GPA or credit hours, so come and participate! We'd love to see you and help you to get to the required GPA for full membership status!
Why Join Phi Theta Kappa?
Full Member
Induction Ceremony
Access to over $246 million in scholarships
Leadership training and experiences
Career, Research, and Skills training and certification
Professional Development opportunities
Recognition at college commencement
Diploma seal
Lots of fun! and Many, many more benefits! Explore them at Phi Theta Kappa's international website ptk.org
Get Involved!
Phi Theta Kappa is more than just a line on your resume! It is the opportunity to get involved in your community and to make a difference. We have regular member meetings which are open to everyone, do college and community service, conduct research, get publish, win scholarships, and so much more! Come, ask us what makes Phi Theta Kappa special, and get involved!
For more information
If you are interested in becoming a member or have any questions, please submit the Interested in PTK? Form and we will get back to you. Got More Questions? Visit PTK's FAQ page.
Contact Us
Alpha Kappa Psi chapter Office: Kalia 114
(808) 734-9389
kcchonor@hawaii.edu
Chapter Advisor: Professor Julie Rancilio