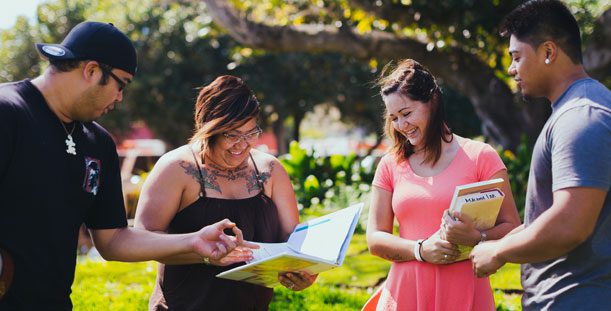 Established on the Kapiʻolani Community College (Kapiʻolani CC) campus in 2015, the Employment Prep Center (EPC) provides students and alumni career development education and employment resources. Visit the links below to learn more about who we are and resources for students, alumni, faculty, and employers.
EPC Vision & Mission
Vision
The Kapiʻolani Community College Employment Prep Center will educate students in their lifelong career development to lead fulfilling lives that sustain themselves, their communities, Hawaiʻi, and the world.
Mission Statement
The Kapiʻolani Community College Employment Prep Center supports students to identify and communicate their skills, interests, personality, and values that align with their personal, academic, and career goals. We provide resources and events to help students make informed academic and career decisions. We collaborate with faculty, staff, and our community partners to connect our diverse students and graduates with opportunities.
Students
Explore Careers
The Maida Kamber Center (MKC) offers two resources to help you identify careers that align with your personality, interests, values, and strengths. We recommend starting with the Focus 2 assessment. Register for your own personal account using the password from the MKC site.
Hawai'i Career Explorer is an interactive resource to gain information and real-time data for occupations, companies, state agencies, institutions, and industry sectors. Start with exploring an industry, reviewing the top jobs and skills in demand in Hawaii, or taking a lifestyle quiz to find out how much money you need to make to afford the lifestyle you want.
Informational Interviews: Gain insider knowledge from people already working in a job, industry, or organization you're interested in. Pick up a copy of the Networking Success Strategies handout in the Employment Prep Center (EPC) office for more info. Or, learn more about UH Connect which is a networking and mentoring platform for UH alumni.
Gain Experience
Learn through Service: Get connected with The Kapi'olani Service & Sustainability Learning Program or Aloha United Way for hands-on experience in the neighboring community. Kapi'olani CC's Māla Māunuunu and Conservation Connections provide a variety of opportunities through ʻaina-based learning as well.
Campus Contribution: Join a student organization to develop leadership skills and make a difference on campus.
Research: Undergraduate research provides an opportunity to build your Curriculum Vitae (CV) while connecting with faculty in the field. Visit your program director to discuss independent study or the STEM Program for opportunities in science, technology, engineering, and math.
Study Abroad: Expand your worldview through Study Abroad and develop academically and personally through immersion in a foreign culture.
Prepare to Get Hired
Resumes: Create a draft resume by copying this template to your Google Drive.
Job search document handouts: Stop by the EPC office to pick up copies of handouts on resumes, Curriculum Vitae (CVs), cover letters, job search strategies, and interviewing.
Career workshops: The EPC regularly hosts workshops to help students prepare, search, and secure part-time and full-time jobs. Check out the Kapi'olani CC Calendar for upcoming student and community events that may be of interest to you.
Individual job search support: EPC advisors are available to meet in person to review your job search documents and conduct practice (mock) interviews. Make an appointment via STAR Balance (view instructions on how to do this here).
Connect to Opportunities
On-campus jobs: Current students that are enrolled at least half-time and in good academic standing can apply for on-campus jobs using SECE.
Off-campus jobs: Students can apply for part-time and full-time off-campus jobs using SECE.
Faculty
Want to support the career development of your students? Here are just some of the examples of how the EPC can be a great classroom resource:
Conduct in-class presentations about "What Can I Do With a _____ Major?"
Collaborate on class assignments related to student's career goals or employment readiness (e.g., career exploration, resume writing, job searching, networking, interviewing, participation in job fairs)
Invite a panel of employers (from specific industries or who studied specific majors) for a talk story session with your students
Invite employers to speak in your class about topics such as professionalism, time management, conflict resolution, effective communication, etc.
Speak to your class for 5 minutes about EPC services & resources
Serve as a mock interviewer
If you're interested in any of the above or want to chat about career education ideas to include in your syllabus, call (808) 734-9066.
Employers
Job Postings: Contact gethired@hawaii.edu to learn more.
Flyers: Bulletin boards on campus are reserved for student activities only. The Employment Prep Center (EPC) encourages you to email job-related PDF flyers to gethired@hawaii.edu.
Job Fairs: The EPC hosts one job fair at Kapi'olani Community College in the Fall semester with a small group of employers.
Share Your Expertise:  For this upcoming academic year, the EPC is excited to announce a new initiative called Beyond the Table. Beyond the Table is our database of employers who would like to volunteer their time and expertise to engage with our students beyond hosting a recruiting table during one of our job fairs. Learn more about our Beyond the Table database.
Connect with Us
Employment Prep Center (EPC)
Kikaha O Laeʻahi Center, ʻIliahi 231
(808) 734-9066
gethired@hawaii.edu
Hours: The EPC is open for appointments and walk-ins Monday through Friday, 8:00 am – 4:30 pm. Appointments are preferred.
Individual Appointments: Current students can make an appointment via STAR Balance (learn how to make an appointment.) Alumni, faculty, and employers can call (808) 734-9066 or email gethired@hawaii.edu to request an appointment.