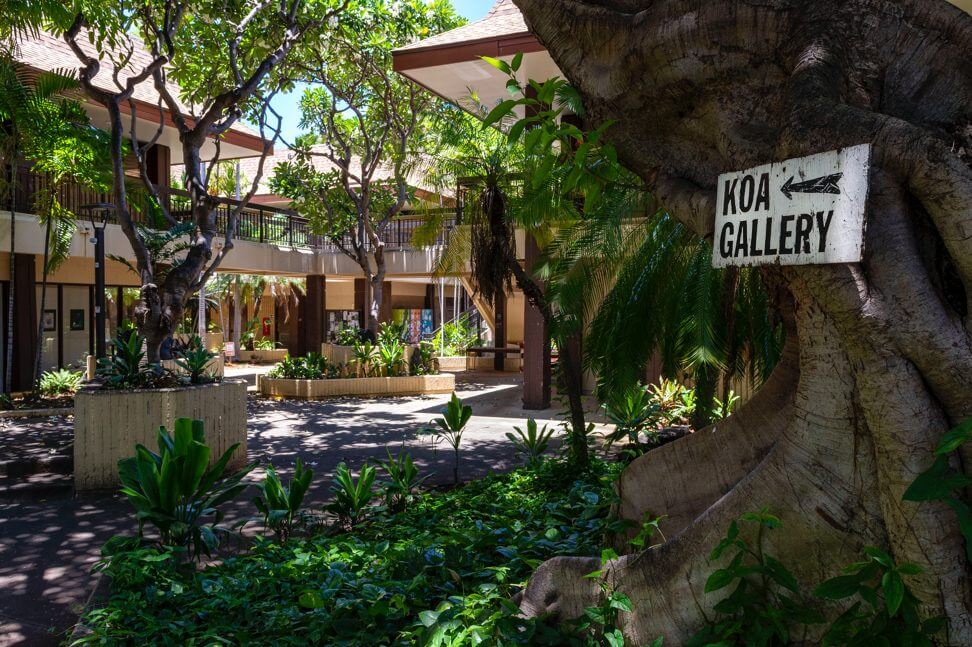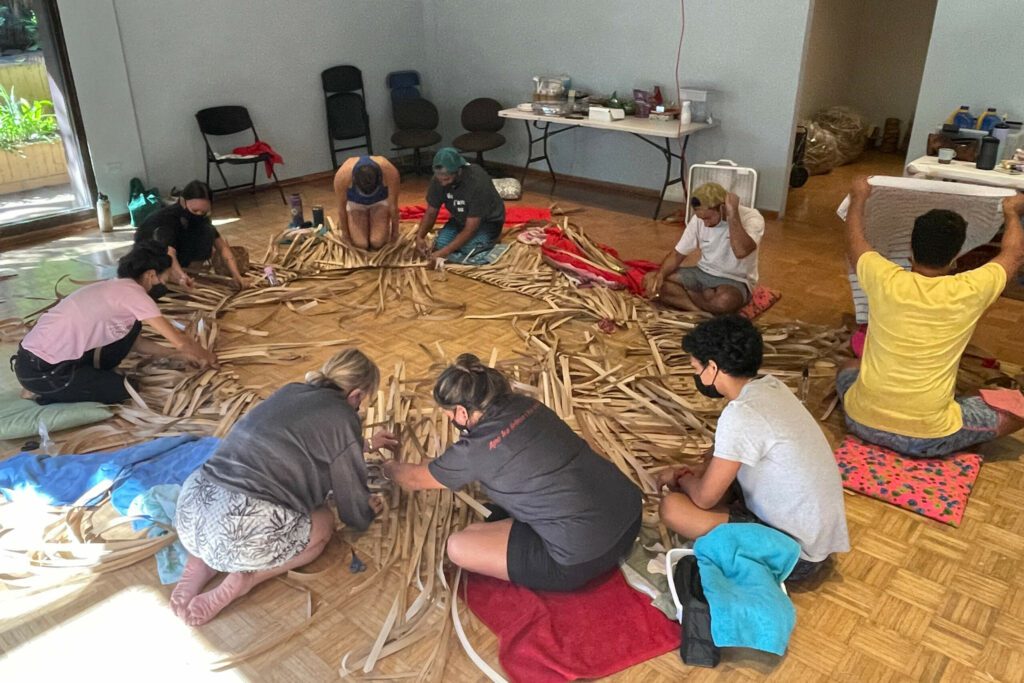 KEANAHALA
January 7, 2022 – August 8, 2022
KĀLĀHU, PĀLOLO, KONA, OʻAHU—Koa Gallery, Kapiʻolani Community College is pleased to support KEANAHALA, a multi-phase project by a growing hui (association) of the same name led by Josh Tengan, Lise Michelle Sugritan Childers, Sancia Miala Shiba Nash, Emma Broderick, and Aunty Lorna May Kealoha. The group is dedicated to perpetuating the diverse and expansive Hawaiian practices of ulana lauhala (plaiting, weaving, knitting, braiding of dried hala leaves) and mālama pūhala (caring for, protecting, and preserving hala trees). Initiated in 2018, as a grassroots weaving program of Puʻuhonua Society, a Honolulu-based arts and culture not-for-profit organization, Keanahala revitalizes ulana moena (weaving of mats) across communities in Oʻahu.
The first phase of the project transforms Koa Gallery into a place for hala processing, preparation, and the weaving of a large moena alolua (two-sided mat) under the direction of Kumu Mahina and Cheryl Pūkahi to be included in the Hawaiʻi Triennial 2022: Pacific Century – E Hoʻomau no Moananuiākea. During the second phase, the gallery is reimagined as an open and safe space to research, record, experiment, and engage with oral histories, "traditional" and "contemporary" materials, and unconventional ideas around ulana lauhala. In the final phase, KEANAHALA culminates with an installation of newly generated works that grow out of the earlier phases—a wall drawing, watercolor on paper, video projection, window treatment in vinyl, and dimensional floor coverings.
For additional context and/or information on how to participate in this community-oriented process, visit the Keanahala website.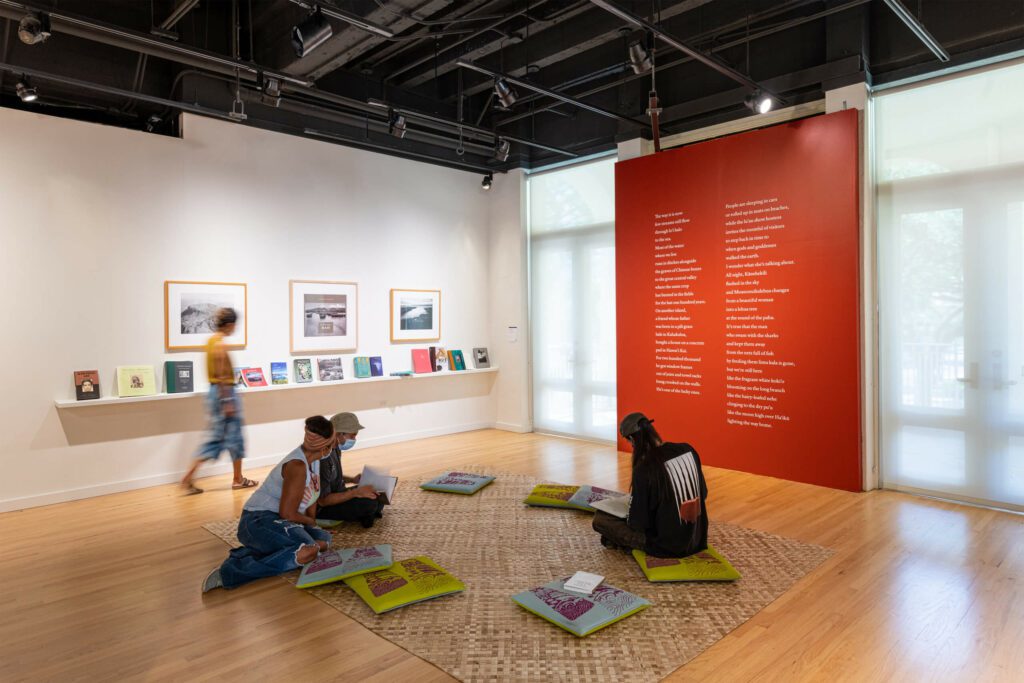 About the Venue
ʻO Koa Gallery, ua hoʻokahua ʻia i ka makahiki ʻumi kūmāiwa kanawalukūmāhiku, pūnana i'a ma nā palena ʻole o ke Kulanui Kaiāulu ʻo Kapiʻolani, i ke alo o Laeʻahi, ma ka mokupuni o Oʻahu, Hawaiʻi. He wahi i'a no ka huliāmahi, ke alu like, ka hoʻoulu ma o ka hoʻokau hou ʻia ʻana o ka lā i ka lolo. Kākoʻo maoli ʻo Ka Hale Hōʻikeʻike ʻo Koa i nā kaiāulu hana noʻeau o Hawaiʻi, ka Moana Pākīpika, a me nā māhele ʻĀina o ʻĀsia-Pākīpika. Alakaʻi ʻia nā hōʻike e ke Ala Nuʻukia o Kapiʻolani Kula Nui Kaiāulu ʻo i'a hoʻi, e hoʻolako a e hoʻomākaukau i nā haumāna maoli, kūloko, kaumokuʻāina, kauʻāina no ko lākou mua he lako, a pēlā pū me nā ʻōlelo kākoʻo o Hawaiʻi Papa O Ke Ao.
Established in 1987, Koa Gallery is an arts venue nested on the campus of Kapi'olani Community College, in the presence of Lē'ahi, on the island of O'ahu, Hawaiʻi. The gallery is a place for collaboration, engagement, and risk-taking through exhibition-making and public programming. Koa Gallery is especially dedicated to the art communities of Hawaiʻi, Oceania, and the Asia-Pacific region. Production is guided by Kapiʻolani Community College's mission to "prepare indigenous, local, national, and international students for their productive futures," as well as by the recommendations of Hawai'i Papa O Ke Ao.
Visit Us
Wednesdays | 5 p.m. – 8 p.m.
Admission
Free and open to all.
Contact
4303 Diamond Head Rd., Honolulu HI 96816
(808) 734-9374
Fax: (808) 734-9151
Location
The Koa Gallery is located at the ma uka end of the Kapi'olani Community College campus, off Makapu'u Road, between parking Lots A & B.
Parking
All non-staff stalls in Lot A require a displayed permit until 4 p.m.
Non-staff stalls in Lot B are available to students & visitors at all hours
Staff stalls in all lots are available to students & visitors after 4 p.m., Monday-Friday, and all day on weekends.
Discover the vibrant art installations and exhibits scattered throughout our campus, and experience the creativity and beauty of our community