Radiologic Technology Program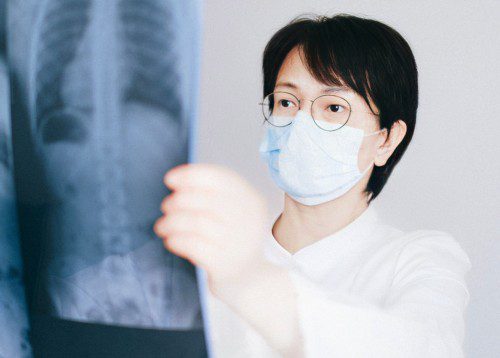 Program Overview
Kapi'olani Community College offers the only two-year Associate in Science degree in Radiologic Technology for the State of Hawai'i. The Radiologic Technology (RAD) Program curriculum includes classroom studies, hands-on exercises in well-equipped laboratories, and intensive supervised clinical practice in affiliated hospitals. This combination of subject matter and clinical experience is designed to prepare program graduates for safe operation of x-ray equipment in diagnostic imaging settings under the supervision of a radiologist.
Radiologic technologists are medical personnel who perform diagnostic imaging examinations or administer radiation therapy treatments. They are educated in anatomy, patient positioning, examination techniques, equipment protocols, radiation safety, and basic patient care. Radiologic technologists may practice general radiography, or specialize in a specific imaging technique such as bone densitometry, cardiovascular-interventional radiology, computed tomography, mammography, magnetic resonance imaging, nuclear medicine, or sonography. Technologists specializing in radiation therapy or medical dosimetry are involved in the treatment of cancer with high doses of radiation. Radiologic technologists work closely with radiologists, specialist physicians who interpret medical images to diagnose or treat diseases and injuries. Technologists may work in hospitals, clinics, or in private physician offices. Their duties may also include record-keeping, ordering and/or stocking supplies, and performing quality control activities to assure proper imaging equipment function.
Satisfactory completion of this A.S. degree program qualifies graduates to take the credentialing examination of the American Registry of Radiologic Technologists (ARRT), which is accepted by the Hawai'i Board of Radiologic Technology for state licensure.
Degree & Certificates
Associate in Science – Radiologic Technology (85-89 credits)
This program includes a combination of subject matter and faculty-supervised clinical experiences designed to prepare a person for the safe operation of X-ray equipment in clinical settings under the supervision of a radiologist or other physician. Satisfactory completion of the requirements for the AS degree permits the student to take the qualifying examinations of the ARRT, which is accepted by the Hawai'i Board of Radiologic Technology for State licensure.
Special Announcements
COVID-19 Advisory (relative CR/NC Policy)
In light of the COVID-19 pandemic, we will be accepting CR grades from the spring 2020 semester to fulfill prerequisite courses, however, letter grades are preferred.  Supplemental information may be required if you choose to submit a CR grade. If you have any questions, please contact Health Sciences/Emergency Medical Services counselors at (808) 734-9224 or hlthsci@hawaii.edu
Licensure and State Authorization
Once the student has completed the Radiologic Technology program and has successfully obtained certification in radiography by the American Registry of Radiologic Technologists, s/he will be eligible to obtain a state license, which will allow the licensee to practice radiography in the State of Hawaiʻi. Kapiʻolani Community College may not be able to confirm whether a particular program meets the professional licensure requirements outside of the State of Hawaiʻi. Kapiʻolani Community College recommends the student contact the respective professional licensing board to determine the licensure requirements in the state in which the student lives
Program Mission
The mission of the Radiologic Technology Program at Kapi'olani Community College is to provide graduates with the entry-level skills and knowledge necessary for performing the tasks of a radiologic technologist in imaging centers, hospitals, clinics, and radiologists' offices and group practices. Further, as the only such program in Hawaii, it is the mission of this program to provide qualified radiologic technologists for the healthcare workforce in the state of Hawai'i
Program Goals
The goals of this program meet or exceed the guidelines of the Joint Review Committee for Education in Radiologic Technology. The program is designed to meet these goals through an intensive course of study and laboratory practice and supervised clinical practice in affiliated clinical hospitals. The goals of the Radiologic Technology Program are:
Students will practice as entry-level radiologic technologists.
Students will demonstrate effective teamwork, communication, and critical thinking skills.
Students will reflect the value of professional growth and development.
The program will meet workforce needs for radiographers in the state of Hawai'i.
Qualities Needed
Aptitudes and interests that may be helpful include a desire to make a difference in people's lives, interest in science and technology, compassion, sensitivity, problem-solving and communication skills, and the ability to follow instructions
Program Outcomes
Upon completion of the Radiologic Technology Program, graduates will be able to:
Take diagnostically acceptable radiographs of any or all parts of the body.
Practice appropriate radiation safety measures.
Communicate and interact appropriately and effectively with patients, patients' families and friends, peers, staff, and supervisors.
Work effectively as a team member with students, staff, and radiologists.
Maintain professional and ethical behavior as a healthcare provider.
Adapt patient positioning, projections, and technical factors based on patient condition.
Discuss the value of life-long learning and being an active member of a professional society.
View RAD Program Effectiveness Data 2023 (pdf)
Clinical Obligations
Upon acceptance to the Radiologic Technology Program, the following clinical obligations will remain in effect for all enrolled students until program completion.
University-prescribed academic requirements that involve clinical practice in a University-affiliated health care facility setting must be completed, with no substitutions allowed.
Students will be responsible for arranging their own transportation to all geographically dispersed clinical settings.
Clinical shifts will begin no earlier than 6 am and end no later than 6 pm on weekdays only; NO clinical shifts (including make-up hours) will be scheduled during evenings, weekends, institution-recognized holidays, or non-instructional days.
Students will be responsible for satisfactorily completing any background checks and drug testing required by the affiliated healthcare facility to which they are assigned for clinical practice in accordance with procedures and timelines as prescribed by that healthcare facility.
Students admitted to any of the Health Career Education programs with a clinical component will be required to purchase non-refundable professional liability insurance prior to registration for program courses.
Students will be responsible for submitting the following program-specific documentation prior
to performing clinical activities:

Current BLS certification (CPR for Healthcare Providers or equivalent)
Certified criminal background check
Vaccination records for Rubeola (measles), Mumps, Rubella, Varicella, Tdap, Influenza
TB clearance
COVID-19 vaccination record, and booster(s) when eligible

NOTE: Non-vaccinated students and less than fully vaccinated students, regardless of test
result (i.e., even if the test is negative), may be ineligible for some educational activities (e.g.,
clinical and fieldwork), that may prevent them from completing educational requirements,
employment opportunities, and/or participation in certain face-to-face activities.
Should I consider radiologic technology as a career?
Yes, if you are interested in health care and helping people, are compassionate and sensitive, have good science and math aptitude, good problem-solving skills, manual dexterity, and depth perception. Your ability to follow instructions, be detail-oriented, to work independently, and to work neatly and accurately are equally important. For more information go to Bureau of Labor Statistics website. Then select 'advanced search' and type in your health science program of choice.
Is certification available?
What degrees and certificates do you offer?
The associate in science (AS) degree.
Do I need to maintain a certain grade and grade point average in these courses?
Yes. For an AS, you must earn:
a grade point average (GPA) of 2.0 ("C" average) or higher for all required courses and
a grade of "C" or better in all required courses
When can I enter the program?
You can enter in the fall only.
Is there an age requirement in order to qualify for the Radiologic Technology Program?
The University of Hawaiʻi Radiation Safety Committee has set the age minimum at 18 years. Anyone younger than 18 years cannot handle radioactive materials or use radiation-producing machines. Therefore, all students must be at least 18 years of age by the start of the Radiologic Technology Program (the first instructional day of the Fall semester).
Are there any special entry requirements?
Yes. The program is a selective admission program.
Do I need to take a test?
Yes. There is an admissions assessment (HESI A2).
Is there a minimum score for the A2 in order to qualify?
Yes. You must have a minimum score of 75 for each of the five sections of the test: anatomy & physiology, math, reading, vocabulary & general knowledge, and grammar.
How long are the A2 scores valid?
Scores are only valid for the current application period.
Does the Program offer "part-time" study?
No. Students must complete all courses each semester as described in the curriculum.
Is there any other way of fulfilling the "attend a mandatory information session" requirement for admission if I am not on the island of O'ahu?
No, all prospective applicants must attend a mandatory information session prior to their application to the RAD program. The program information sessions are offered each month throughout the academic year.
Is there a "wait-list" for the Program?
No. Selection is made from the pool of applicants who submit an application for admission within the current application period.
Does the Program offer "Advanced Placement"?
No. Students must apply through the normal application process and complete the curriculum as described in the College catalog.
How does Kapiʻolani Community College handle transfer credits?
Please see the College catalog for more information regarding transfer credits and prior-learning credits ("Acceptance of Transfer Credits & Prior-learning Credits").
Health Careers Counseling Center
Support for Health Career Pathways
Learn about admission requirements and criteria, program curriculum, program cost, financial aid, application for licensure/certificates, and transfer to baccalaureate programs.
Health Career Counselors/Advisors
Kauila 106
hlthsci@hawaii.edu
(808) 734-9224
Virtual Walk-in Hours: Monday thru Thursday from 9:00-11:30 am & 1:00 – 3:00 pm. No appointments are needed. Closed on holidays.
Health Careers Info Session
Program Information sessions are held monthly and provide potential applicants with program details and requirements, application procedures, and career outlook. Attending an information session is recommended before you start your academic journey. Attendance of a program information session within one year of the application submission is mandatory when applying to a Health Science and EMS program.